This thing is a BEAST and gets 20 mpg city and 28 highway! I don't get that in my STOCK SRT or modded R/T. WTF man! lol
Dyno:
This at 5500 RPM only. When the owner can hit 6k+, he might hit 1000 RWHP.
Build:
5.7 based 8.5:1 392 Inertia Stroker
Coated CP Pistons
Crower Cam and Rods
Callies Crank
5.7 Inertia Premium Big Valve Heads
6.1 Valve Springs/Pushrods
JBA Headers
Stage 1 Ported 6.1 Intake Manifold
Stock Throttle Body
Stock Torque Converter
SHR Transmission & Blanket
Fore Precision Fuel Hat
CPR Fuel Rails
Custom TC70 Turbos
Turbo Kit Fab'd by Big 3 Racing
Tuned by Johan at Diablosport
Pics? Ok ok ok!!
Here's a pic from before the install....Ehm these fall under the BFT category: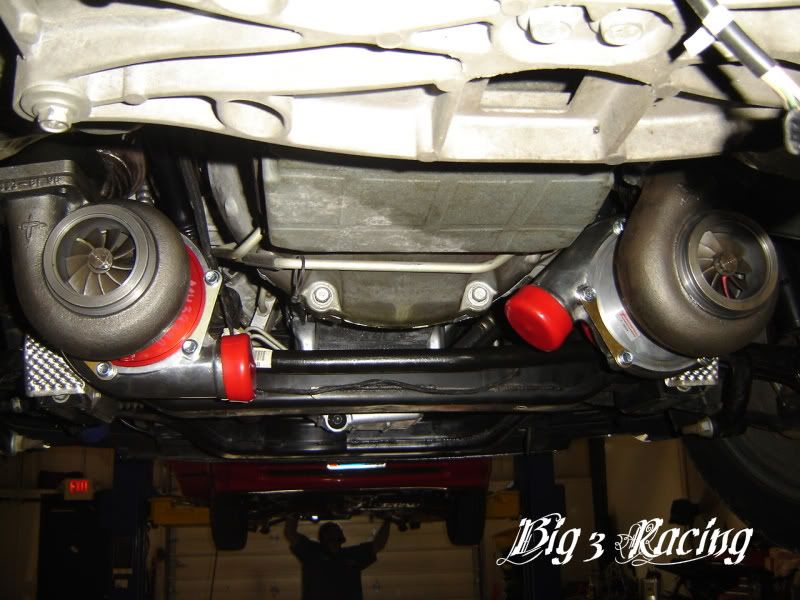 I have no idea how much money he has into this build, but it has taken a long time (another shop kept his car for almost a year without working on it), but now it has just a few small things to finish up so he can finally enjoy this incredible machine. I cannot imagine how insane this must be to drive, but per the customer, the car is easy to drive and drives normally when you stay out of boost.
Truly an impressive build!!